Pulmonary Telemedicine Clinic in Aventura FL
Telemedicine can provide patients with medical care without having to leave the comfort of their own homes. Dr. Luis Mesa, MD, area with quality care for pulmonary diseases ranging from asthma to lung cancer. Please feel free to call us today or schedule an appointment online! We are conveniently located at 21110 Biscayne BLVD ST 405 Aventura, FL 33180.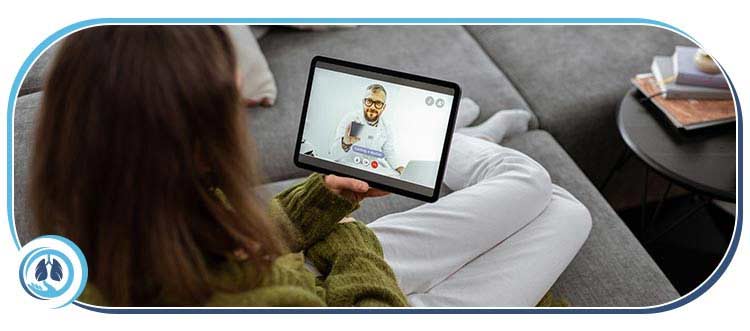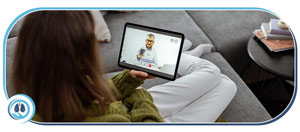 Table of Contents:
What is a telemedicine?
What do I need for a telemedicine visit?
What can be treated with a telemedicine visit?
How do I prepare for my telemedicine visit?
There are times when going to a doctor's appointment in person does not feel worth the trouble. In such situations, a telemedicine appointment with your doctor can save you time, money, and energy! At Dr. Luis Mesa, MD, our pulmonary and sleep disorders clinic is proud to provide our valued patients from Aventura, FL, and the surrounding areas with telemedicine services.
What is telemedicine?


Telemedicine refers to the use of digital communications technology to bring healthcare services to patients through a virtual medium. What that means is that, with telemedicine, an individual can have a doctor's appointment in the comfort of their own home through a live video platform, much like Zoom or FaceTime, but with added protections for confidentiality purposes. The video platform used for telemedicine is required to meet encryption and security guidelines in the Health Insurance Portability and Accountability Act (HIPAA) regarding patient-provider confidentiality.

With a telemedicine consultation, patients can discuss their symptoms and medical concerns with their provider, receive a provisional diagnosis, learn about treatment options, and get prescription refills for medication. For patients with chronic health conditions, medical providers can provide remote patient monitoring to keep an eye on their progress and health status.

What do I need for a telemedicine visit?


For a telemedicine visit, all you need is access to a stable and secure internet connection in a private space. Telemedicine visits, which are also referred to as virtual doctor's visits, can be conducted on your smartphone, tablet, laptop, or desktop computer. Depending on your needs, a telemedicine visit can also be conducted over a phone call.


What can be treated with a telemedicine visit?


While there are some injuries, conditions, and medical services that require an in-person doctor's appointment, telemedicine can provide numerous treatments and services. At Dr. Luis Mesa, MD, we can provide telemedicine services for the following illnesses and conditions:

• Asthma
• Bronchitis
• Chronic obstructive pulmonary disease (COPD)
• Cystic fibrosis
• Diabetes
• Insomnia
• Respiratory tract infections
• Obstructive sleep apnea (OSA)
• Thyroid disorders
• And others!

While we are proud to provide telemedicine services for the above conditions at Dr. Luis Mesa, MD, some aspects of diagnosis and treatment for such conditions may require in-person appointments.

How do I prepare for my telemedicine visit?


When preparing for a telemedicine visit, there are a few things you can do to make the most out of your appointment. The following are some things to consider as you prepare for your telemedicine visit:

• Download the video-platforming app that the medical provider uses to facilitate telemedicine appointments, making sure it is compatible with your device
• Find out from your insurance company about their coverage and copayment policies for telemedicine services
• Make a list of your symptoms and any questions you have for your medical provider
• Find a comfortable, quiet, and private space or room for your telemedicine appointment, ensuring that you have full access to a stable and secure internet connection
• Make sure your device is plugged in or completely charged
• Place any relevant medical devices within reach, such as a blood pressure monitor, glucometers, or heart monitors
• Inform your provider of any pre-existing conditions you have
• Be ready to have an in-person appointment for follow-up care or further testing, if necessary

If you have other questions about our telemedicine services at Dr. Luis Mesa, MD, that you would like answered, we would be pleased to hear from you! For a telemedicine appointment, please feel welcome to schedule one through our website. We serve patients from Aventura FL, Surfside FL, Golden Glades FL, Andover FL, Miramar FL, Hollywood FL, West Park FL, and Miami Gardens FL.

We are looking forward to hearing from you!